EnvistaCares Challenge - Crime Stoppers from John Burns on Vimeo.
Crime Stoppers
Shawnee County Crime Stoppers encourages members of the community to assist local law enforcement agencies in the fight against crime by overcoming fear and apathy. We assist local law enforcement agencies by gathering information through the use of online and mobile tools. We want to encourage community members to volunteer vital information that could lead to our battle against crime.
Call the Anonymous Tip Line at (785) 234-0007 or submit information through our Mobile Application by clicking the box below.

Tips that lead to a felony arrest are eligible for a cash reward.

Crime Stoppers will pay a cash reward up to $500 to a tipster for providing information on any illegal firearm, which leads to an arrest and/or confiscation of an illegal firearm. To qualify as an illegal firearm, the firearm must either be unlawfully possessed or illegal by standards setforth in federal, state, or local laws.
Donations
At Shawnee County Crime Stoppers, we work with law enforcement agencies by assisting citizens in providing anonymous tips. We ask you, our citizens, to help us make our community a safer place. Please consider making a donation to our program right now by clicking on the box below. Please give generously. Every dollar counts!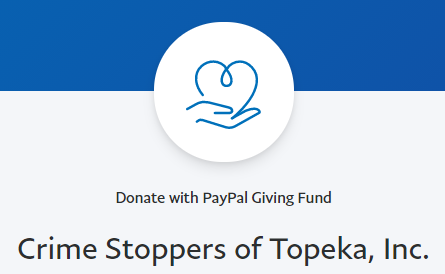 Crime Stoppers relies on a volunteer Board of Directors and tax deductible contributions from the community in order to operate the program. Please consider making a donation to our 501(c)(3) program.